This year at Bradley Central we are trying something new in the world of sports physicals.  Through the company Privit Healthcare Inc., we have had a website created to grant each athlete the opportunity to create their own online physical account. This allows for secure access to the athletes physical for both parents and coaches.  All you need to do is create an account fill out and sign all the forms and then select the sports which your athlete will participate in.
Every form needs to be completed as well as a Parent signature and a Student athlete signature (two green checks).
Before completing the questionnaire, we recommend you have the following information on hand:
Family Medical History
Athlete's Medical History
Athlete's Immunizations/Allergies/Medications Information
Here is the link, start here and follow the directions given (copy and paste the link into a new web page).
https://bradleycentralbears-tn.e-ppe.com/index.jspa
Registration and Login If this is your first time using Privit Profile™, you will need to complete the registration process.
IMPORTANT NOTE: If your athlete is under the age of 18, fill out the registration page with your information as a parent. This will be the information used when accessing your Privit Profile account in the future.
1.  From the web address or the link your organization provided to you, click the Register button.  (If you are registering multiple children or you have already registered yourself, you do not need to register again and please refer to #6 below.)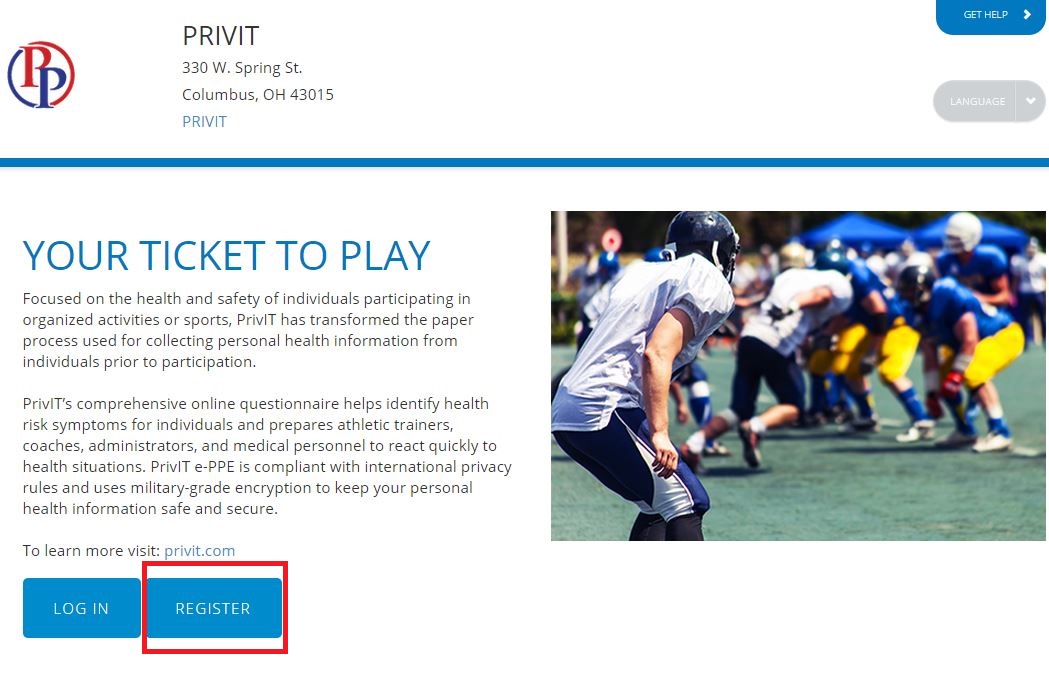 2.  Complete the required information, indicated by an asterisk, and click Register. (Anything marked with an asterisk must be completed to continue the process.) When creating your new password, keep in mind new passwords must meet the following requirements:
Contains a minimum of 8 characters
Contains at least one letter
Contains at least one number (0-9)
NOTE: The email address and password you use during this registration process will be the information you use to access your Privit Profile™ in the future.
3.  After clicking 'Register' a Welcome Message should appear.  Read the Welcome Message and when you have finished reading, scroll down to the bottom of the message and click 'Done'.
4.  From the Home page click the Add Member button.  (This allows you to add your student/athlete to your account if you already registered as a parent; and this section allows you to add other family members if necessary.)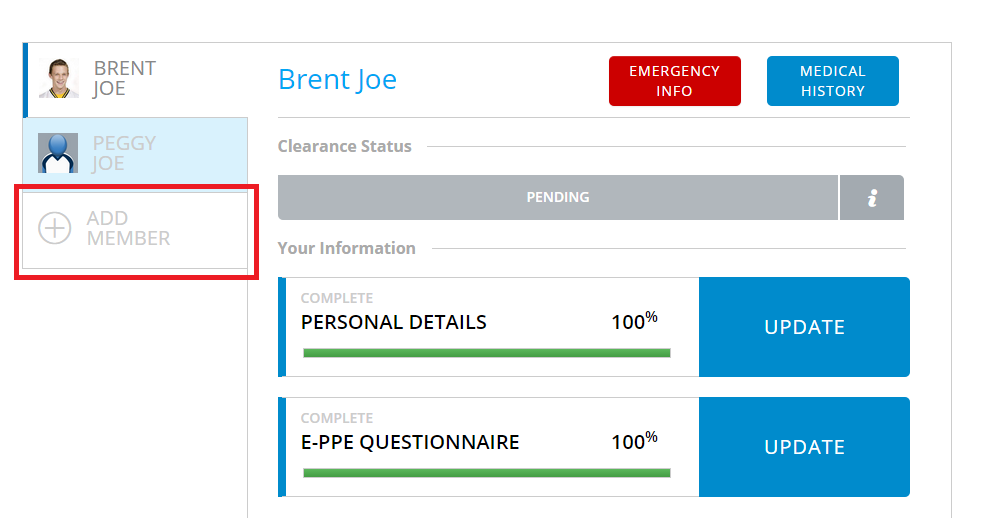 Click Add Member.
Enter your child's first name (and last name if different), date of birth, and gender.
Click Add Member
On the next screen you are able to copy family History data and demographic data from other family members.
Confirm the information you want copied and click Copy. (If you do not have any information to copy, click Cancel.)
5.  You will now see the student/athlete listed under Family Members and you will want to click on student/athlete name. You can begin completing the Personal Details by clicking the Update button to the right of Personal Details.
IMPORTANT NOTE: You can click the box to skip insurance information.  It will ask for insurance information in another form you can just put in N/A in the space provided.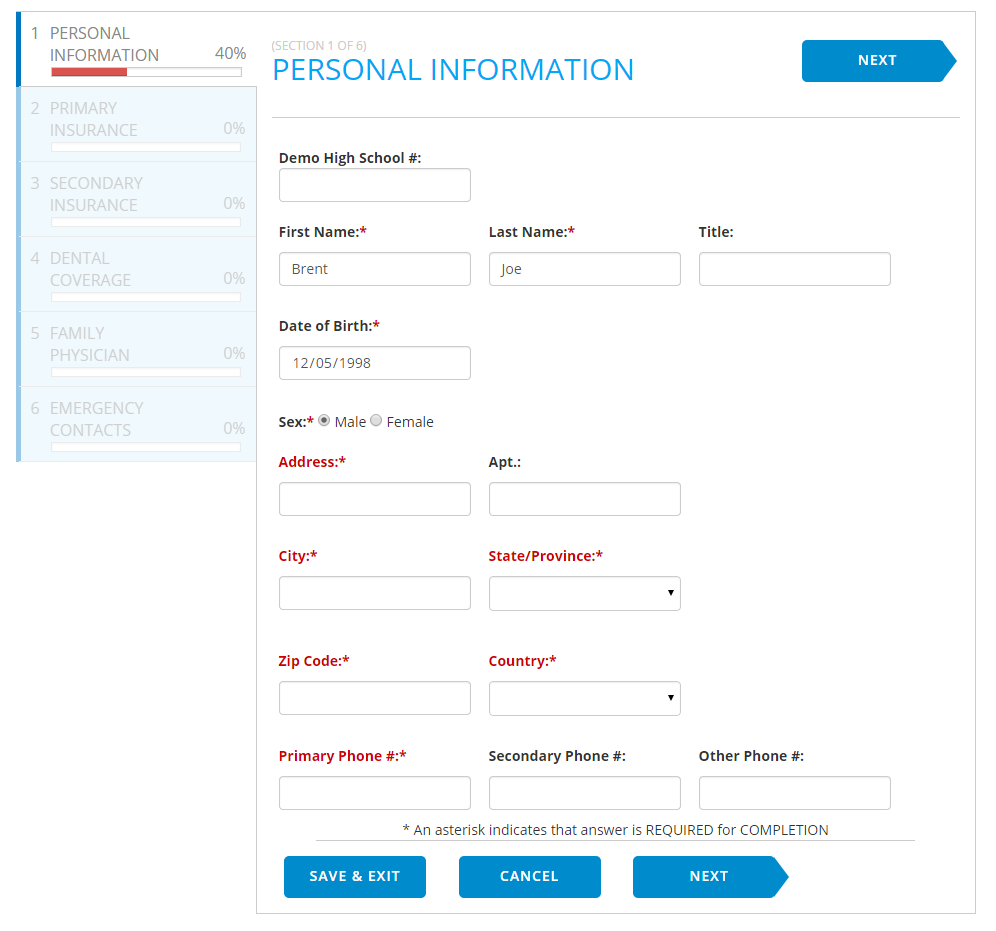 Complete the Personal Details section to 100% and click Save and Exit.
Once the Personal Details is 100% complete, you will be able to click START to the right of questionnaire and begin completing the e-PPE Questionnaire.
6. Complete all components of the e-PPE questionnaire.
Sudden Cardiac Arrest Form

Consent For Athletic Participation

Pre-Participation History Form

TSSAA Concussion Form
NOTE: You are able to click the "Save and Exit" button (Located at the bottom of each page in the questionnaire) to allow you to finish at a later date if needed.
IMPORTANT: In order for a component to be 100% complete you will need to answer all mandatory questions, marked with a red asterisk (*), and check the box at the bottom that states "I have thoroughly read all questions on this page and answered them to the best of my knowledge. Click Save and Exit.
7.  After completing the e-PPE questionnaire, you must join a team. To do this, click Update next to Joined Teams from the HOME page and check the box next to the teams your student/athlete will be participating and click Done.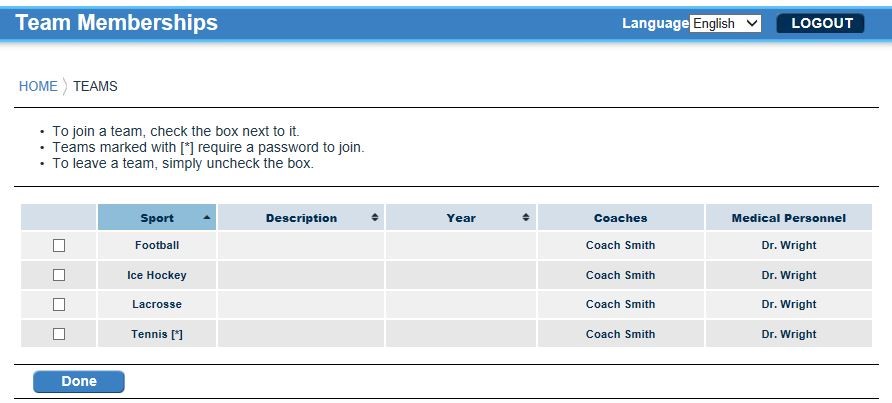 IMPORTANT: You cannot skip this step as it is critical for your athlete's coaches and athletic trainers will be able to review eligibility status, emergency contact information, and see your athlete on the team roster.
8. After you have completed the e-PPE Questionnaire and joined a team(s), you will need to electronically sign the appropriate reports/forms.
9. To sign the required reports/forms, create your e-signature from the Manage Your e-Signature section within Manage Account (click on your name at the upper right of your home screen and click on Manage Account, there you will find Manage Your e-Signature).
10. Use your mouse (or finger/stylus if you are using a touch screen) to create your e-signature, then click Save. If you are not satisfied with your e-signature, click Clear to clear the screen and start over with your e-signature.
11.  To find the reports/forms that need an e-signature click on Manage Documents button on your home screen to apply your e-signature to documents.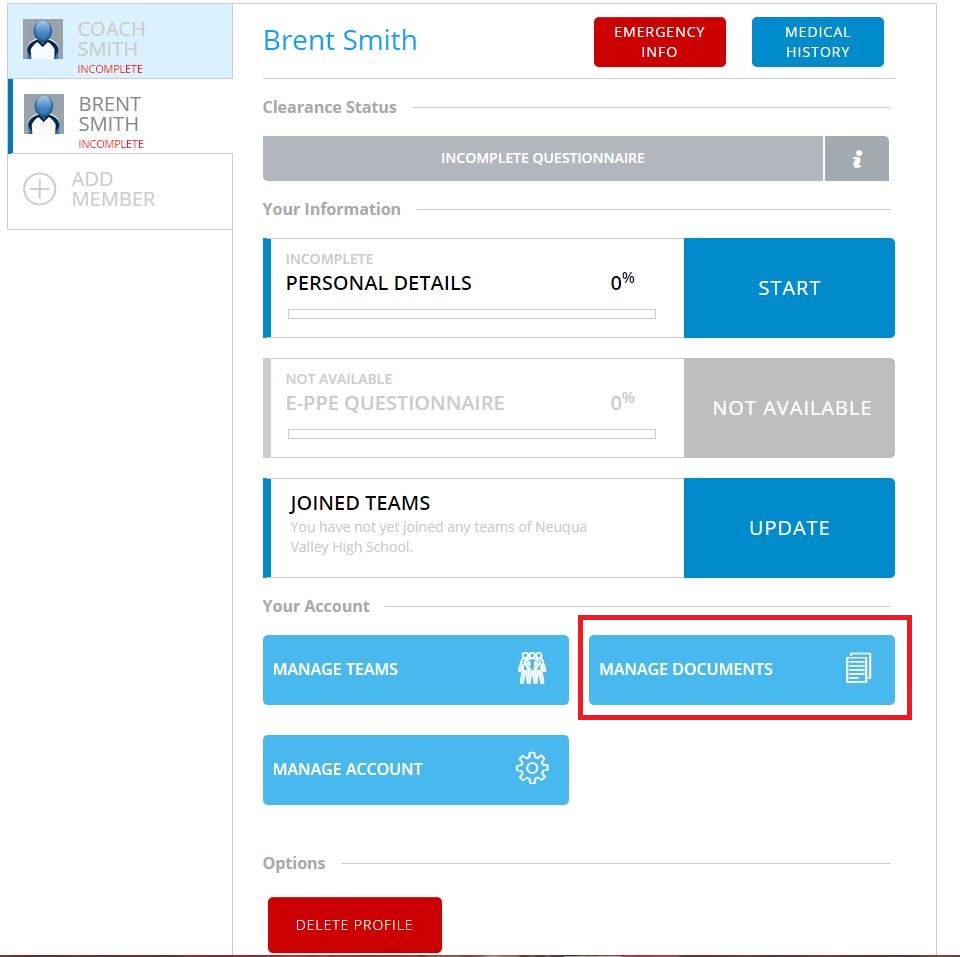 Creating and Applying Student/Athlete E-Signature:
Step 1:
Once you have signed the document as a parent, you will be on the Manage Documents page.
From the Manage Documents page, click the Sign Document link under your student/athlete's name.

Step 2:
You will see a message stating that you have not yet created the signature for your student/athlete.
Click the Create New e-Signature button.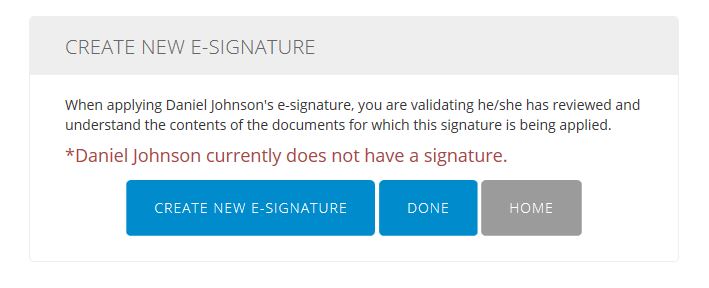 Step 3:
Create the electronic signature for your athlete using your mouse or finger if you use a touch screen.
You will also need to check the box confirming the signature.
Click Save.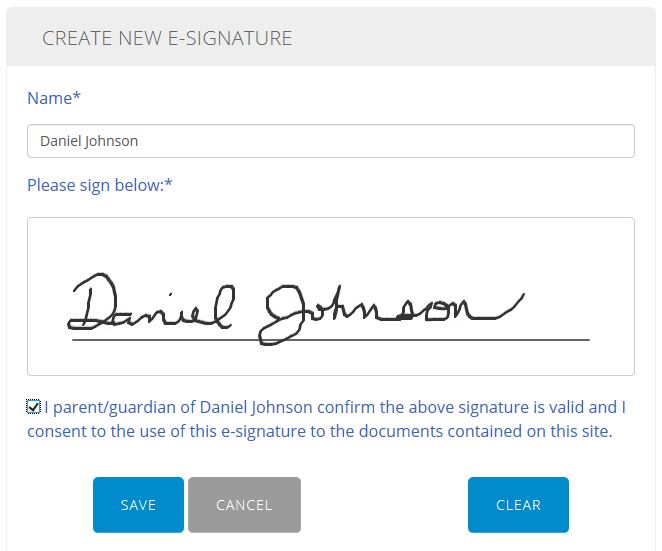 Step 4:
Your student/athlete's signature will display on the confirmation page.
Click Done.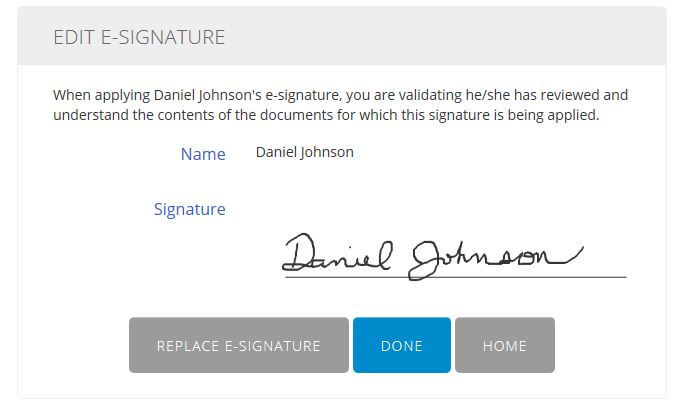 Step 5:
After clicking Done, you will be taken back to the Manage Documents page.
Your athlete's e-signature has been created and is now ready to apply. Click the Sign Document link under your student/athlete's name.

Step 6:
Your student/athlete's signature will display.
Check the validation box.
Click Sign Document.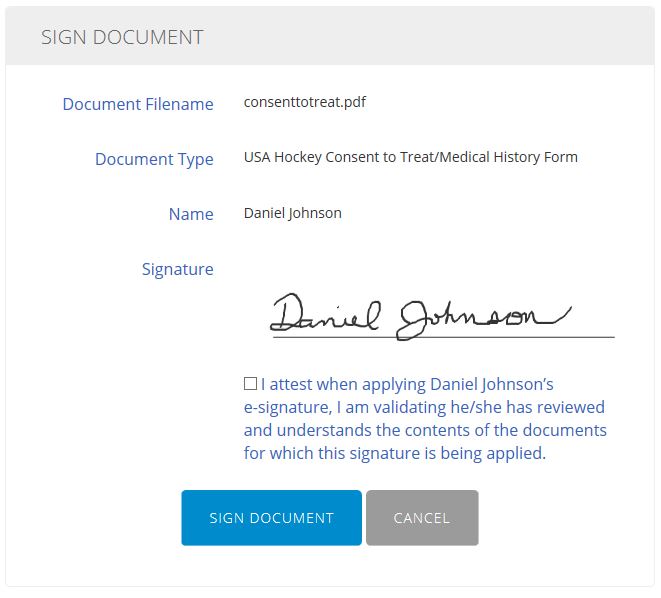 Step 7:
You will be taken back to your Manage Documents area.
Once you have created your student/athlete's e-signature, you will be able to apply it to any necessary documents by following steps 5 and 6 only.

Your profile is complete when you have:
100% of the personal details complete.

Concussion Form, complete and signed by Parent and Athlete.

History From, complete and signed by Parent and Athlete.

Consent Form, complete and signed by Parent and Athlete.

Sudden Cardiac Arrest Form, complete and signed by Parent and Athlete.
If you need help here is a link to HOW TO GUIDES:  https://support.privit.com/hc/en-us/sections/200400273-Parent-Athlete-How-To-Guides
You can also contact the company at 1-844-234-HELP (4357)
Support Hours
| | |
| --- | --- |
| M-F | 8:00 AM – 5:00 PM ET |
| Saturday | Closed |
| Sunday | Closed |